Attractive cover
Includes a one-year Bible reading plan
Extended margins for journaling
Gorgeous interleaved design
Clear, accurate ESV translation
Made with genuine leather for long-lasting durability
If you are in a hurry and just want to find out what the best ESV Journaling Bible is, then I'd recommend the ESV Interleaved Edition Journaling Bible as the best one.
The English Standard Version (ESV) Bible runs up to 757,439 words. This high word count can overwhelm novice readers and contemporary believers. But do not worry. ESV represents a literal English Bible translation written without archaic language, but still follows the tradition of the King James and Tyndale Bible. Its accurate Bible translations are easy to read, made for contemporary studies, and public reading.
In learning how to read the Bible consistently, journaling is an essential habit. You can reflect upon the scripture intimately. Like a diary, you write what God tells you. It has ruled margins, a perfect way in writing observations, your praises, and journal entries.
The ESV Journaling Bible is a popular tool for intense Bible reading. Written in comprehensible Bible translations, it is also designed to appeal to creative, insightful introspection.
Here are the best ESV Journaling Bibles we will be reviewing:
What is an ESV Journaling Bible?
The English Standard Version Journaling Bible is usually the Crossway English Standard Version Journal Bible. Crossway created this type of journal for Bible readers to record their spiritual development as they read the Holy Bible regularly. This unique Bible makes the finest journals for you to record your insights into this study Bible and could be your lasting keepsake.
Having the ESV Journaling Bible gives you a perfect way to keep intimate spiritual journal entries right within the pages of the Bible itself. It offers spacious margins for writing observations, personal prayers, praises, and journal reflections.
Simply put, the ESV Journaling Bible makes a great gift and enduring heirloom for everyone who seeks and values God's word.
Importance of Journaling for Bible Reading
Journaling is necessary for Bible reading. This activity is all about recording your thoughts and free-running ideas on paper. When it comes to the Bible, a journal is significant in personal devotional life. This is where you will listen to the Word of God. Relish it. Internalize the lessons within.
Make your daily journal entries a personal diary to God. Treat it like a heartfelt prayer wherein you write God all your fears, your joys, and your realizations from your experiences. Doing it this way will lead to a lifelong passion for the Holy Bible.
Journaling is also great for cognitive development. It is a popular activity which everyone from scholars to billionaires credits to their success. It offers the following benefits:
It helps organize your thoughts more clearly.
It helps you sort out and understand your emotions better.
It helps you learn and practice self-discipline.
It makes you learn and understand concepts easier through finer retention of memory.
It helps to live more mindfully.
Why Use an ESV Bible for Bible Journaling?
The ESV Bible is an outstanding unique Bible for contemporary believers. First published in 2001, the English Standard Version offers accurate Bible translations. It gives readers clarity of what the original Bible says. The ESV satisfies the preferred translation for preachers and students in teaching and writing ministry.
The ESV Bible is perfect for Bible journaling because of the way it is written. It is beautiful, elegant, and simply the best translation combining accuracy. You can effortlessly read it, study and reflect upon it. The ESV achieves to be understood by everyone from adults to kids, and even from this multicultural world to all our future ministry.
R. Albert Mohler, Jr. of the Southern Baptist Theological Seminary recommends ESV as it represents a new level of excellence in Bible translations. Kevin DeYoung from Christ Covenant Church says it is simply the best translation for combining accuracy, readability, and fidelity to the rich history of English Bible translation.
Types of ESV Journaling Bibles
Here are the different ESV Journaling Bibles, according to Crossway. Crossway is the leading publisher of ESV Bibles.
Original ESV Journaling Bible
The original ESV Journaling Bible features 2-inch ruled margins and double-column pages. It is a fine journal for one's spiritual life. Crossway made this Bible journal with fine, cream-hued paper and Smyth-sewn binding. The book includes contextual introductions and a free ribbon marker. They usually come in a clamshell box or an o-wrap packaging.
ESV Single Column Journaling Bible
Crossway redesigned an ESV Single-Column Journaling Bible. This new design made the biblical verses easier to follow. It features 2-inch ruled margins for writing, you can easily jot down notes next to the particular Bible verse.
ESV Journaling Bible Large Print
This ESV Bible Journal still comes with the single-column format but is made more readable with paragraph format. Crossway published this Journaling Bible with a large, 9.5 font size. So this is a perfect way if you need a lot of space for writing observations, reflections, prayers, praises, and God-inspired art.
ESV Illuminated Bible
Up for something exquisite? The ESV Illuminated Bible combines the functionality of the single-column format and over 400 elegant hand-lettering illustrations. Having this ESV Journaling Bible encourages you to engage in a close sense of the wondrous Word of God.
ESV Journaling Bible, Inductive Edition
This is another redesign of the ESV Single Column Journaling Bible. The Inductive ESV Journaling Bible features only the New Testament. It provides three-eights of an inch space between each Biblical line. This extra space is more than enough to encourage deeper with the Scriptures.
ESV Journaling Bible, Interleaved Edition
This final type of the ESV Journaling Bible is the most sophisticated and beautiful. The Interleaved ESV Journaling Bible is designed in a similar pattern as Jonathan Edward's Bible. The 18th-century theologian recorded more than five thousand notes about the Word of God.
Crossway offers full, blank pages after every Bible page. This offers maximum space for extensive notes or whatever personal reflections the reader has on the primary text. It also comes with a thorough one-year Bible reading plan and a sleek slipcase.
How to Choose the Best ESV Journaling Bible
ESV Journaling Bibles have a wonderful translation that is written in contemporary language. And they also offer a simple yet elegant style, whatever the type you choose.
Here are the factors you need to consider when looking for ESV Journaling Bible.
What is your journaling style?
Examine your prayers, praises, and journal writing habits. Do you take notes or doodle around the edges of your notes? Which works well with you – blank pages or ruled margins for writing adjacent to Biblical passages? Most Journaling Bibles come with small prints so if you're unhappy with that, look for large print Bibles.
Also essential to look into is where you will use the ESV Journaling Bible. Will you take it to Bible study, church service, or just put it on your bedside table?
Budget
Think how much do you have to spare for a Journaling Bible? The rule of thumb with any purchase is to only get the retail price you can afford in the market today.
Product Reviews
Check out the public reception. Ask around your church for what they bought. Browse through forums, Facebook groups, and countless online retailers. Check what buyers say about the ESV Journaling Bibles they bought before placing an order.
To guide you in your Bible journaling, here are the best ESV Journaling Bibles for you to choose from.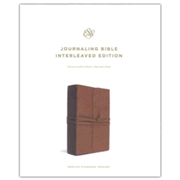 If you need a beautiful ESV Journaling Bible as an heirloom, the English Standard Version Interleaved Edition Journaling Bible might be great for you. This double-column ESV Journaling Bible allows you to read the Bible with introspective note-taking. From thick, cream-colored pages to its fine, rugged genuine leather cover, you can make this interleaved Bible a worthwhile daily companion.
I love this ESV Journaling Bible's fine, unruled pages. They feel sturdier than typical Bibles and don't wrinkle as easily because of their Smyth-sewn binding. The smooth, cream-hued pages offer me a beautiful outlet for creatively expressing my prayers, praises, and journal entries. My uncle, a senior pastor and a teaching director, also likes this Bible Journal because it is easy to use for sermon prep, Bible studies, and retreats.
I also love its soft, gorgeous leather cover. It also comes with a pen strap for easy journaling.
Pros:
Gorgeous interleaved design
Clear, unquestionable accuracy of ESV translation
Made with genuine leather for long-lasting durability
Fine pages for creative journaling
Includes unruled pages
Protective slipcase / clamshell box
Cons:
Hefty
Small print
Poor strap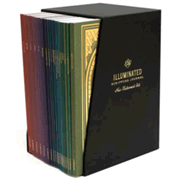 Another elegant style of ESV Journaling Bible is the Illuminated Edition. This paperback version of the Crossway Illuminated Bible offers only New Testament books. This is great for travelers, students, artists, and people on the go because it is portable and travel-friendly.
My favorite feature of this Journaling Bible is its unique A5 Journal format. Because it's thin and portable, I love using it during out-of-town trips wherein I usually read and journal observations, reflections, prayers, praises, and doodles before bedtime. I've also used it to take notes during church services – for homilies and sermons alike.
I also like its gorgeous gold-foil-stamped cover and illustrations that complement the large print biblical texts. Each book comes with unique color gradients, thick, cream-hued paper, and over 1000 handmade illustrations. It has large margins for creatively journaling your spiritual life right inside this book.
Pros:
Thick, cream-colored paper
Large print
Large margins
Each book is portable
Exquisite illustrations
Perfective for inductive study
Stylish covers
Cons:
Expensive
Only comes with the New Testament books
Not lefthanded-friendly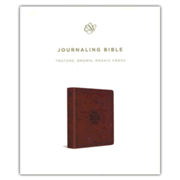 The English Standard Version TruTone Journaling Bible offers nice, journaling on the go with compact, pocket size. It comes with a polished, faux leather cover and soft, nicely bound cream-colored paper.
If you need ample space for note-taking, this ESV Journaling Bible might work for you. It comes with rich history notes and a yearlong Bible reading plan. It features 2-inch ruled margins for writing observations, reflections, prayers, praises, and scribbles. My friend likes this because she has big handwriting, totally perfect for recording her spiritual life right inside this Bible. She uses this as her primary Bible for taking notes of the commentaries of their senior pastor during the fellowship, Bible church studies, and prayer meetings. It comes in a permanent slipcase or an o-wrap packaging.
Pros:
Attractive cover
Includes a one-year Bible reading plan
2-inch ruled margins extended for journaling
Soft pages
Cons:
Made with faux leather
Extremely mall print
Pocket size Bible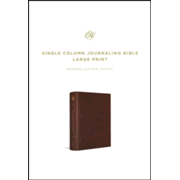 The single-column format makes this type of ESV Journaling Bible very popular. It features two-inch lined margins on fine, cream-hued papers, unobtrusive verses, and a yearlong Bible reading plan.
Its bonded leather cover feels rich and sturdy. With this, you can jot down your insights when you are called by the Word of God. You can also use this for writing observations, reflections, prayers, and intense Bible reading. The lines of the text match that of the ruled margins so you can match the insights with the verse itself.
This is perfect for Bible studies, Sunday church services, retreats, and even just discussing the Bible with a friendly nonbeliever.
Pros:
Softcover
Single-column format
Spacious margins for journaling
Includes a one-year Bible reading plan
Affordable
Cons:
Made with bonded leather
Heavy
Narrow text
Thin, see-through pages
No built-in notes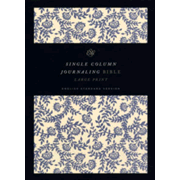 If you love sweet, old-fashioned Bibles, this English Standard Version Cloth over Board Journaling Bible can be a solid choice. This cloth-covered board is a classic look that works well for novice journaling believers.
It features a nice synopsis at the front of every book, dual column Scripture format, wide margins with ruled lines, a one-year Bible reading plan, with cute, cardboard slipcover. Record the journey of your spiritual life right inside this charming Bible.
Pros:
Beautiful style, floral cover
Wide margins with ruled lines
Includes a one-year Bible reading plan
Travel-friendly
Affordable
Cons:
Extremely thin pages
Small print
Stains easily
Lacks an index or concordance
Missing Bible verses
Lacks a strap
Conclusion
An ESV Journaling Bible is a fine Bible for you if you are serious about desiring God. Crossway designed this for intimate spiritual routine during Bible reading. Each ESV Journal Bible comes with blank margins for writing observations and reflection.
When choosing your Journaling Bible, examine first your journaling and Bible reading habits. Then, think of the budget you can set aside. Lastly, look up what people say about the ESV Journaling Bibles that you are keen to.
The best ESV Journaling Bible I recommend is the ESV Interleaved Edition Journaling Bible. This unique Bible makes the most elegant style for Bible readers who values God's Word. You can rest assured of this sturdy, enduring book because of its beautiful, genuine leather cover. Its finest journals are ascinating to use with its thick, cream-colored paper for praises and journal entries. All in all, the ESV Journaling Bible is a great gift that will help you relish the Word of God for a lasting keepsake.
Faith-Filled Content Delivered To Your Inbox
Receive uplifting scriptures, inspiring articles & helpful guides to encourage your faith.
Thank you for subscribing!
Something went wrong.