It can accomodate a large Bible
Features a cross stitched on front with a patchwork appearance
Made of a beautiful, genuine leather with nylon reinforced stitching
Handcrafted in the USA
The leather is true top grain leather
The zipper is an easy, smooth pull every time to open or close it
If you are in a hurry and just want to find out what the best leather Bible cover is, then I'd recommend the Bob Siemon Designs Extra Large Leather Bible Cover as the best one.
Want to give your Bible the best protection? Get a leather Bible cover.
Bible covers are necessary to protect the most beloved possession of the Christian faith – the Bible. The Scriptures are the library of wisdom that God breathed upon men. Reading the Bible is a fulfilling activity. So you need to find a good Bible cover to keep your Bible in good condition.
The best Bible covers are leather Bible covers. They are stylish, practical, and durable. Since time immemorial, no other type of material beats the longevity of leather.
Here are the Best Leather Bible Covers we will be reviewing:
What are Leather Bible Covers?
Leather Bible covers to protect the Bible from dust, dirt, debris, and messes. These covers are popular with clergy who use the Scriptures for leadership and fellowship. They have more robust and sturdy designs. This feature makes a leather Bible cover the ideal tool to keep your Bible safe whenever, wherever you want to spread the Word of God.
Leather Bible covers last longer than hardback covers. Bible cover makers craft them from different animal skins. After the tanning process, the various animal skins get processed to produce diverse, natural leather patterns. The precise tanning and binding process guarantee the longevity of leather Bible covers.
There are also leather Bible covers made not from genuine leather but mixed or synthetic materials. These materials recreate the feel and look of leather. But they are usually less durable than genuine leather.
Why are Leather Bible Covers Popular?
The Bible houses the Word of God written from different perspectives and generations. This well-spring of wisdom needs full-time care and protection. After all, you don't just put your Bible on a shelf, forget it and leave it to dust. You carry the Holy Word with you everywhere. You read the Bible regularly. You find comfort with God's messages. Your Bible is the perfect companion to guide you and others to a life well-lived.
So you need a Bible cover that offers protection and easy organization for a lifetime. Ever since Christians assembled and printed the Bible, the best covers are leather Bible covers. These covers provide sleek style and boundless functionality.
Christians from clergy to the faithful favor leather Bible covers. They are sleek, timeless, and long-lasting. With these Bible covers, countless Bibles became heirlooms of families and churches worldwide.
However, you need to be careful in choosing leather Bible covers. There are many different types of leather in the market. To make a wise decision on a leather Bible cover, you first need to understand the wide variety of leather Bible covers.
Types of Leather Bible Covers
Leather Bible covers differ in their leather composition and their styles.
Genuine Leather
Genuine leather is one of the strongest and long-lasting materials. They become more beautiful and more durable over many years of use. In particular, genuine leather Bible covers are smooth, breathable, and flexible. The most popular genuine leathers are goatskin, calfskin, and cowhide leather.
Goatskin, also known as Morocco leather, is resilient, strong, and supple. Calfskin is a soft, flexible material that bookbinders favor highly. Then cowhide is a soft leather that is most common as a material for book covers, bags, belts, and wallets.
Bonded Leather
Bonded leather Bible covers come from recycled leather scraps. Bible cover makers bond these scrap fibers with plastic resins. Because of this method, bonded leather Bible covers take less time, effort, and funds to make. But it also becomes less durable. It can break apart with regular use.
Imitation Leather
Imitation leather is synthetic leather. They usually are longer-lasting and more attractive than bonded leather Bible covers. Some popular faux leathers are TruTone, Kirvella, Leatherflex, and LeatherLike.
Leather Bible Cover Styles
Leather Bible covers also vary in style. Other usual types of leather Bible covers are handmade leather Bible covers, personalized leather Bible covers, and zipped leather Bible covers.
How to Take Care of Leather Bible Covers
It's not enough that you get a leather Bible cover. You need to take care of it so it can take care of your Bible. Doing regular maintenance on your Bible cover will ensure that it will last for generations. And your Bible with its leather Bible cover can be a fine heirloom for your family.
Here are two tips on caring for leather Bible covers:
Avoid storing papers in your Bible. And lay it down flat in the Bible cover.
How to Choose the Best Leather Bible Cover
Now you're ready to buy leather Bible covers. But how do you choose the right Bible cover?
Follow these steps to heart:
Measure your Bible. Get a Bible cover that is a few inches larger than your Bible. Doing this will avoid damaging your Bible's binding.
Choose the leather Bible cover style that speaks to your personality. Leather Bible covers vary in design and features. Just narrow in your needs and which covers fulfill those.
Work within your budget. Find the Bible cover that you can afford and will serve you well. If you can, invest in a genuine leather Bible cover for long-term savings.
Check out product reviews. Before buying anything, gauge how the public has received the item. Are there any complaints? What do people who buy this Bible cover experience? Ask your fellow church members about what they use. Try to mitigate any risk by understanding what you are buying into.
Are you feeling overwhelmed with the task of choosing a leather Bible cover? Don't worry. Here are some of the leather Bible covers for you.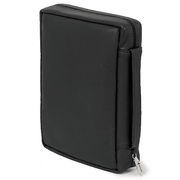 Are you on the hunt for gorgeous, handmade leather Bible covers? You're in luck with the Bob Siemon Designs Extra Large Leather Bible Cover. This sleek zippered journal cover works efficiently in protecting your Bible from wear and tear and external damage. You can showcase your Bible in an elegant case.
The best feature of this leather Bible cover is its leather material. The Bob Siemon Designs Extra Large Leather Bible Cover is handcrafted in the USA from soft, top-grain leather. Our classic Bible cover in black features a spine handle, solid pewter cross zipper pull, and a fully lined interior with a pen holder and storage pockets.
I also love its sturdy and durable structure. It has fine stitching and a precise, rugged finish. Every time I go out with my Bible inside this leather Bible cover, I get compliments because it looks so good and effortlessly secure.
The Bob Siemon Designs Extra Large Leather Bible Cover can Fit Bibles up to 9.75″ x 6.5″ x 2″. They are crafted from the finest leathers from Italy for the front and back, with leather from Brazil being used for the spine.
Pros:
Handcrafted in the USA
The leather is true top grain leather
The zipper is an easy, smooth pull every time to open or close it
The case is fully lined with several interior pockets with a pen loop
The XL easily fits the standard sized Bibles
Cons:
Exterior pockets are not fully-lined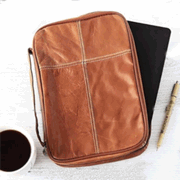 Dickson's is based in Seymour, Indiana. Many of these are Dickson's exclusives, designed by their in-house development team from the concept stage to the finished product. The team takes great pride in building high-quality products that will last for many years. Dickson's primary mission is to serve its customers by creating, manufacturing, distributing, and marketing biblically-based gift items, to improve the lives of people everywhere.
This Bible cover features a cross-stitched on the front with a patchwork appearance on this large bible cover. It measures approximately 7.75 x 11.25 x 2.5 inches. It has a full zipper closure with a coordinating zipper pull. It also has a carrying handle for easy travel. It lays flat when open to fully view the Bible without removing it. Perfect when on the go to church, Bible study, and classes.
This multipurpose Bible cover also works well as a suitcase, portfolio folder, and regular organizer. So this would be a perfect gift for your family and friends, a great symbol of love for all occasions.
Pros:
It can accomodate a large Bible
Features a cross stitched on front with a patchwork appearance
Made of a beautiful, genuine leather with nylon reinforced stitching
Features a deluxe two-way zipper with engraved cross zipper pull
Ships in protective packaging
Cons:
Needs regular conditioning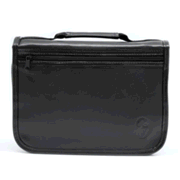 Wordkeeper know how important your Bible is to you that's why they designed this exclusive line of top-quality Bible covers that not only protect against scratches, stains, and fading, but also provide you with plenty of convenient storage space for the extra essentials.
This Bible cover features soft and supple genuine leather. It has a full zipper closure with a coordinating zipper pull. It also has a carrying handle for easy travel. The removable study kit includes two no-bleed highlighters, a 4-color pen, and a combination of magnifier, ruler, and bookmark. Perfect when on the go to church, Bible study, and classes. Additional features include a velcro-close storage flap with flip-out 5″ x 8″ notepad for right- or left-handed users.
Pros:
Soft and supple genuine leather
Embossed cross motif
Zippered exterior pocket
Sturdy handle and double stitched zipper
Fits Bibles up to 9″ X 5.50″ X 1.50″. hand measured
Cons: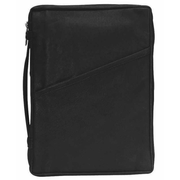 If you want something fashionable and dependable to protect your Bible, you should consider the Dicksons Leather Classic Bible Cover.
This large leather Bible cover features a front slash-style pocket. It includes full zipper closure and handles. Outside dimensions measure approximately 7.25 x 10.25 x 2 inches. It can accommodate a large Bible or book that is 6.5 x 9.25 x 1.75 inches or smaller.
The Dicksons leather Bible cover features a beautiful leather-like material and is spot clean only. It is the perfect way to protect God's word because it lays flat when open to fully view the Bible without removing it.
Pros:
Includes full zipper closure and handle
Accommodates a large Bible or book
Easy to spot clean
It lays flat open when open
Ships in protective packaging
Cons:
Zipper breaks after regular use
Has minor, aesthetic imperfections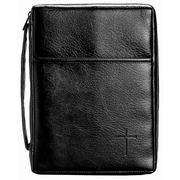 Soft, sturdy, and stylish. This Dicksons' Bible Cover with Handle is a handy tool to help protect your precious Bible. This soft Bible cover enables you to keep your Bible clean and beautiful. With this cover, you can feel confident in carrying your Bible to and fro your house.
One impressive feature of this soft Bible cover is its flexible frame. It bends and molds to the weight of anything you put inside without harming your Bible. When opened, it lays flat, so you can read the Bible without taking it off the cover. This cover is large enough to accommodate large Bibles.
It is excellent as a gift, with a beautiful, stitched black cross. You can also take advantage of its front pocket and a full zippered closure to protect the Word of God and spread it to others. Use it for Bible studies, church events, or personal Bible reading time.
Pros:
Flexible
Topnotch vinyl inner compartment
Sturdy and durable
Cons:
Not made of genuine leather
Cover scratches easily on the outside
Conclusion
Leather Bible covers are timeless symbols of sophistication and care for one's Bible. Their rugged, soft texture enhances the beauty of your Bible. And their flexible, sturdy structure ensures the longevity of your Bible.
There are many different types of leather and styles used in leather Bible covers. With their wide variety, you can easily find the right one for you.
The best leather Bible cover I recommend is the Bob Siemon Designs Extra Large Leather Bible Cover. Made with full-grain leather, it is sturdy, durable, and stunning. It protects your Bible and other essentials from wear and tear, dirt, and messes. Best of all, it comes with a guaranteed warranty of 101 years. So this is the best leather Bible cover for you if you need something classy and functional – even as a gift!
Faith-Filled Content Delivered To Your Inbox
Receive uplifting scriptures, inspiring articles & helpful guides to encourage your faith.
Thank you for subscribing!
Something went wrong.