Bible-safe
The colors are beautiful and are not too harsh
The ink doesn't bleed through pages, even through thin ones like the Bible
The ink doesn't bleed through pages
This comes in a set of different colors so you can use it for color-coding and note-taking for your Bible study
The colors are vibrant too, which is great for highlighting keywords
Comfort grip
No bleed and no smear
Colors are vivid and distinctly different from one another
If you are in a hurry and just want to find out what the best Bible highlighters are, then I'd recommend Pentel 8-Color Dry Mark Bible Highlighter as the best one.
Do you know what would be a fun combo? Faith and creativity! If you're artsy and the type of person who journals or is at least interested to try, I'm here to tell you that you can bring your hobby to Bible study.
In this article, I'll introduce to you my top choices for Bible highlighters.
Here are the Best Bible Highlighters we will be reviewing:
What are Bible Highlighters?
Bible highlighters are art and crafts tools that are specialized for Bible study use. These types of highlighters are known for their no-bleed properties. They are made specifically for highlighting thinner book pages like the Bible.
There are different types you can choose from, and this will depend on your preference. Moreover, there are some things you need to consider before getting pens and writing on your Bible. In this article, we'll briefly go over some options to help you in choosing the best Bible Highlighter for you.
Why Use Bible Highlighters?
The purpose of a Bible highlighter is to highlight words and paragraphs for emphasis. This is a very helpful tool in Bible study as it can help you spot verses that are significant to you. Some also come in fine tips, which allow you to take notes or even decorate pages of your Bible.
Who uses Bible highlighters?
Bible highlighters are often used by pastors, priests, students, clergies, and missionaries. But if you're interested in spicing up your reflections, you could get one for yourself too!
Pros and Cons of using Bible highlighters
Pros
One of the advantages of having a Bible highlighter is, since these highlighters often come in vivid colors, using them lets you find certain verses or words easier. You can also organize verses into categories as you highlight by color-coding passages.
Using Bible highlighters will let you personalize your Bible. You can exercise your creativity while studying the Bible. These aren't just used to color some words. You can also use these highlighters and pens to write notes, doodle, and make illustrations as you reflect upon the scriptures.
Cons
Having passages in your Bible highlighted with bright colors may be distracting for some readers. But of course, it depends on personal preferences and you can always get Bible highlighters that are easier on the eyes (dim or pastel colors). Some may say highlighting and/or writing on your Bible sort of "disrespects" it.
However, my stand on this is that you're doing it to complement Bible study. Again, it depends on each person. Some highlighters and pens are not made to be used on thin paper, like the Bible's. These smudge and bleed through pages, ruining passages. Considering this, you have to be careful when choosing your highlighters.
How to Take Care of Your Bible Highlighters?
Like anything, if you want your Bible highlighters to last, you should know how to take care of them. The first piece of advice I can give you is always put the cap back on after using the pens. Forgetting to do so will dry your pens and highlighters. In some cases, when we forget to put the cap back on, the ink may run and smudge your other stuff, especially paper. Then you would have two problems: the mess and your new pen running out of ink.
My second tip for you is to have a case or pouch to store the pens and highlighter when not in use. Having a pen case will make it easier for you to bring your Bible highlighters around. Having one also prevents you from misplacing them.
Lastly, you wouldn't want to drop your pens often. Although it depends on the ink, some cheaper pens' ink breaks when dropped, then they stop working. The tip can break too, especially if dropped without a cap.
How to Use Bible Highlighters?
There are different ways in which you can mark your Bible. You can opt to stick to one or even combine two or several techniques, it all depends on you. For now, you can choose a method you like and try it out.
Color-coding. You can assign a color for each topic or theme significant to you and every time you find a passage that fits in this particular group, you highlight it.
Keywords. Instead of highlighting a whole paragraph, you can identify keywords and just color those words
Margin notes. This is more than just putting color on words or verses. To level up your Bible study, you can use your colored Bible pens and highlighters to write notes and reflections on the margins.
Underlining. Underlining is best for beginners! Just choose whatever color you like and underline words, verses, paragraphs that you resonate with.
Types of Bible Highlighters
Choosing the best type of Bible highlighter for you can get you a long way. You have to be very careful too, as not every pen or highlighter is safe to use for your Bible.
Gel type highlighters
Gel highlighters have a gel stick inside containing the highlighting pigment. The gel formula prevents it from bleeding and smudging as you write. It also doesn't contain water or alcohol, which means gel-type highlighters are not prone to drying up.
Dry highlighters
Dry highlighters look like colored pencils. These have a lead core that is brightly colored and comes in different shades of neon.
Wet highlighters
Wet highlighters are the most common highlighter. It comes in different colors, tips, and body designs. Since these use a wet formulation, the lines are bolder, but take longer to dry. Thus, using wet highlighters may be prone to bleeding and smudges.
Colored pencils
These are pencil crayons encased in a wooden body. These are often used to draw or color illustrations and offer a variety of colors to choose from.
Colored pens
The pens we usually use are usually in black, red, or blue. But there are so many more colors to choose from! You can use these colored pens to underline keywords, verses, or even write notes on your Bible's margins.
What to Look for When Buying the Best Bible Highlighters?
As I mentioned earlier you have to be careful when using a pen or highlighter for your Bible. This is because some may tear or bleed through pages. Here are some factors to consider before you buy your own Bible highlighter:
Design
Choose Bible highlighters that feel right in your hand. The most common ones are either pen-like, meaning it has a thin, circular body much like a pen's, or a wide body. Wide-body highlighters are usually rectangular and are somewhat flat and curvy. In my opinion, pen-like highlighters are better as they are less bulky thus easier to hold and bring.
Type of Ink
Like I mentioned earlier, there are different types of highlighters depending on the ink it uses. Each has its advantages and disadvantages so it all depends on your preference and your needs. I would recommend the dry highlighters and colored pens for beginners.
Quick Dry Function
I think this is one of the most important factors to consider before buying your Bible highlighter. The pages of the Bible are usually thinner than usual paper. Using some pens or markers can bleed through pages or mess up, so you must be careful when using ink. I recommend getting a highlighter that has a quick-dry function so you don't have to worry about your notes and highlights getting smudged while they're wet.
Color Quality
Another factor you'd like to consider is the color quality of the pen or marker. Would you like ones that are in vivid colors, making the highlighted words stand out? Or would you prefer something light and easy on the eyes?
Durability
Not that this is something you will often use so make sure to choose something that'll last!
Tip
The most common tips of highlighters are chisel, window, bullet, or fine for pens. The chisel is the most common highlighter tip type, which has a thick and flat tip. A window tip is much like a chisel's but a bit longer. The bullet tip is more rounded, which can be great for drawing and writing too. For pens, fine tips are the most common for Bible highlighters.
To make sure you make a safe and great choice in choosing your Bible highlighter, here are five of my best picks: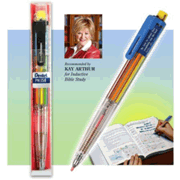 The Pentel 8-Color Dry Mark Bible Highlighter tops my recommendation list as these are of great quality, very affordable, and have no-bleed ink! The set comes with eight highlighters of different colors: bright and pretty (red, pink, orange, yellow, green, sky blue, cobalt blue, and brown).
This one also features a twist-up gel stick design, which also means they won't dry out when left uncapped. It also doesn't smudge as you write so it's perfectly safe for any paper surface, even thin paper like the Bible. The Pentel 8-Color Dry Mark Bible Highlighter uses dry colored wax so that this isn't for you if you're expecting something that uses ink. Of all the Bible highlighters out there, these are my favorite. I would commend for you guys to try it out too.
Pros:
The ink will not bleed through pages
This comes in a set of different colors so you can use it for color-coding and note-taking for your Bible study
The colors are vibrant too, which is great for highlighting keywords
Compact in size
Cons:
Some colors are light
Not recommended for coloring pictures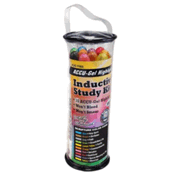 The Inductive Bible study gel highlighters are recommended and tested for marking on Bible paper. The Inductive Study Kit contains 10 acid-free, non-bleeding, non-smearing Accu-gel highlighters. Bible-safe; each color corresponds to a topic of study, matching up with the Inductive Bible study plan. The highlighters are housed in a reusable clear vinyl zipper case. Each marker has a removable cap and pocket clip. Silky smooth gel highlighters are what make this kit the best.
Pros:
Bible-safe
The colors are beautiful and are not too harsh
The ink doesn't bleed through pages, even through thin ones like the Bible
Feature a pen-like design thus are easy to hold and use
Cons:
The ink runs out quickly
These take longer to dry, and if you accidentally touch your writings while it's wet, they will smudge on the paper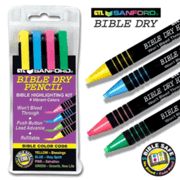 The GTL Sanford Four-Color Bible Dry Pencil Marking Kit is one of the best-selling Bible highlighters and when you try them, you'll understand why. This kit comes with four vibrant highlighters in different colors. This means more choices to choose from, which is great.
The GTL Sanford Four-Color Bible Dry Pencil Marking Kit doesn't smear over other ink and doesn't bleed through pages. The ink used is a non-toxic, alcohol-free gel safe for children's use. They come in a handy push-button design and the good thing about this highlighter is that it requires no sharpening! GTL can promise you 100% satisfaction with not only our high-quality product but also our quick response service. Totally risk-free.
Pros:
Comfort grip
No bleed and no smear
Colors are vivid and distinctly different from one another
Doesn't dry out like other gel highlighters
Comes in a handy push button design
Cons:
Although these highlighters don't smudge on your Bible, the color can get on your hands
The product labels on the highlighter may smear your Bible pages, so be wary of that
Because the gel is more like a wax crayon, sometimes there's a wax build up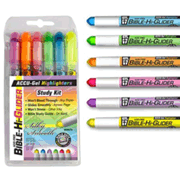 Accu-Gel Bible-Hi-Glider Bible Study Set includes 6 different eye-catching bright neon fluorescent gel highlighter colors. The colors included are yellow, blue, violet, pink, green, orange. No bleed ink applies translucent color right where you want it, and won't smear afterward!
This Bible highlighter glides on paper smoothly. Long-lasting gel stick advances by twisting base. The set comes in a sturdy storage pouch with Bible color code printed on the back. Always recap highlighter when not in use, keep out of direct sunlight, and store at room temperature.
Pros:
Includes four gel highlighters in pink, blue, green, and yellow
Includes one pigma micron 01 underliner pen in black
With no bleed ink
It comes with a set of gold Bible tabs
Includes books of the Bible ruler and bookmark
These are very easy to use, you don't need to exert so much force to highlight words
Cons:
The tip is wide and blunt
The gel stick can be flakey and leave some chips of wax behind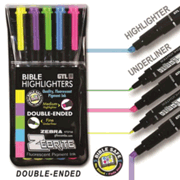 My favorite feature about the Zebra Zebrite Double-Ended Highlighters is that it has tips on both ends! The main tip is a fine bullet, while the other end is a chisel tip. Both are amazing for precise highlighting, underlining, and note-taking! These come in five bright colors: blue, pink, green, orange, and neon yellow.
The Zebrite has two tips! You can use the fine bullet tip for underlining and writing your reflections on Bible verses and the chisel tip for highlighting keywords and verses.
Pros:
Features a fine bullet and medium chisel tip
Black, stylish barrel is made with recycled materials
Features a convenient pocket clip for a secure clasp
AP Certified Non-Toxic
Color assortment is perfect for color-coding projects
Cons:
The no bleed feature might not work on thin pages
The ink dries out if left uncapped
Conclusion
Who says Bible study should be boring and neutral? Give your Bible a little bit of yourself by bringing in your creativity and personality. You can use a Bible highlighter to emphasize words and verses that stand out or write your reflections on the margins. But not all highlighters and markers are safe to use for your Bible. So wait! Don't just head out to your desk and stationery to try out your pens because some can mess up the pages of your Bible.
I'd recommend the Pentel 8-Color Dry Mark Bible Highlighter